Home
Teach. Lead. Inspire.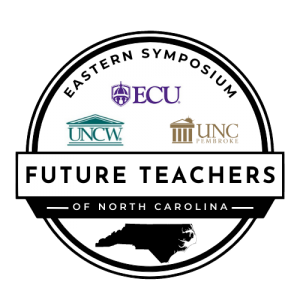 This is a free two-day experience with an option to reside on campus for one night in an ECU residence hall. This event will offer information, experiences and resources about the teaching profession to help participants explore many of the wonderful aspects of being a Teacher.
Rising high school juniors, seniors and current seniors who are interested in becoming a teacher are invited to apply to the free 2-day Future Teachers of NC: Eastern NC Symposium. The Eastern NC Symposium is a collaboration among East Carolina University, the University of North Carolina-Pembroke and the University of North Carolina-Wilmington.
During this two day on-campus experience, participants will learn about the field of education through creative, engaging, fun activities. Participants will interact with current students majoring in teacher education, faculty and staff from ECU, UNC-Pembroke and UNC-Wilmington. Participants will also learn about college life and make meaningful connections with peers.
Participants will have the option of a 1-night overnight stay in an ECU campus residence hall—there is no cost to stay overnight. Free meals and snacks will be provided to participants.
---
Participant Criteria
Interest in learning more about teaching as a career.
Rising high school juniors & seniors and current high school seniors in North Carolina.
Have at least a 2.5 unweighted overall GPA.
Participate in the full two-day experience.
Complete and submit the participation application.
Upload one letter of recommendation from a teacher, school counselor, coach or mentor with application.
---
Benefits of Symposium
Engage in creative and fun activities.
Interact with NC leaders in education.
Develop friendships with diverse high school students throughout the state.
Meet current students and hear the stories of their journeys into education.
Learn about the college admissions process, financial aid, campus life and academic support programs offered.
Participate in innovative activities and enhance your communication skills.
Engage with university teacher education students and faculty mentors.
Learn more about the teaching profession through presentations and small group discussions.
Receive ongoing mentoring, encouragement and support by current teacher education students after the program through digital engagement.
---
Program Dates
Two events will be offered on different dates however, the content will be same for each event date. Applicants should register for the event date that works best for their schedule. Please note that participants will need to attend/complete the full two-day event.
---
Event Date Options
The dates for the symposium will be June 14-15, 2023 and June 20-21, 2023.
---
How To Apply
Note: Applicants are required to upload one signed letter of recommendation from a teacher, school counselor, coach or mentor on official letterhead. Applicants need to have an electronic version of the signed letter of recommendation before completing the application.
Apply here by April 30th: https://bit.ly/3ZV4FGI
---
Event Contacts